A one-day conference presented by Gurteen Knowledge and Bizmedia
2nd December, 2004, Novotel London West, Hammersmith, London, UK
Sponsored by Addept Solutions
In 2001,
Chris Collison
and
Geoff Parcell
of
BP
, published a book called :

Learning to Fly: Practical Lessons from one of the world's leading knowledge companies
In this book, Chris and Geoff showed how new ideas and tools made working and learning inseparable in BP - one of the world's most innovative large companies. The book was down-to-earth and contained guidelines for building a learning environment within an organization. It focused on tools and techniques and the difficult issues of embedding the habits of sharing and learning within an organization. It focused on people and not technology.
The book was a huge success, acclaimed by Larry Prusak and Peter Senge, and is arguably one of the best practical, pragmatic guides to building a learning environment within an organization so far published. It has a five star review rating on Amazon and has become a practical handbook for many KM practitioners and organizations, selling over 10,000 copies worldwide.
This summer, Chris and Geoff have updated and broadened this book with stories from ten organisations, large and small, public and private - including the BBC, United Nations, BNFL, Centrica and De Beers. The result of this is: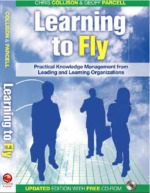 Learning to Fly: Practical knowledge management from leading and learning organisations
This new book which will be published on October 20th 2004 is a practical, pragmatic workbook packed with hints and tips designed to help managers put knowledge management into action in their organizations. This second edition includes new material on implementation and practice from many of the organizations which adopted the ideas of the original publication, as well as a CD-ROM with tools and exercises.
The sixth Gurteen Knowledge Conference is based on the tools, lessons and stories from the new book - celebrating its launch in a practical, hands-on workshop format.
The conference will be run and facilitated by Chris and Geoff themselves as an 'experiential learning workshop'. Everyone will experience first hand learning processes such as "peer assists", and "after action reviews" and learn techniques for capturing "knowledge assets".
As a key part of the day, you will perform a self-assessment of the state of KM within your organization and develop an action plan to move things forward, drawing on the experiences of the other participants -- an excellent networking event.
And you can hear first hand the experiences of applying the approaches from organizations such as
BBC
,
DeBeers
and
KM4DEV
(KM for Development).
Every participant will receive a free copy of the book and CD-ROM, signed by both Chris and Geoff.
Who should attend?
This Gurteen Knowledge Conference is designed for absolutely anyone interested in knowledge management and working with knowledge – from newcomers to the field seeking an in-depth introduction, to experienced practitioners and consultants.
The Facilitators
Chris Collison is Director of Change and Knowledge Management at Centrica plc, responsible for building capability in the areas of change management, knowledge management and e-learning across the company.

Prior to joining Centrica, Chris was at the heart of BP's knowledge management and operational excellence activities. He is co-author of the bestselling knowledge management fieldbook Learning to Fly. Chris is a regular speaker at international conferences and workshops, and has been quoted in broadsheets such as the Financial Times and the Sunday Telegraph.

During recent years, he has advised a range of business leaders, government and non-government organizations ranging from the DTI to the United Nations.
Geoff Parcell gets a buzz from applying tools and techniques to make a difference to business outcomes. He has a wealth of experience gained during a diverse career in BP which has taken him from Vietnam to Brazil, and from Algeria to London. His experience extends from geophysics to staff development, mergers, the development of IT strategy, innovative workplace design and organisational development. Geoff develops teams and organisations by coaching and counselling both individuals and teams to face change and together work out a better series of outcomes.

A core member of BP's knowledge management team during the late 90's, he now looks at organisational capability, and finds ways to embed the company's knowledge in core business processes. He is a recognised coach and facilitator, challenging the statements and actions of team members, both co-located and virtual.

He has just returned to BP following an 18 month secondment to the UN where he helped develop approaches for sharing responses to the HIV pandemic on a global scale.

He has a deep understanding of human dynamics in networks, and has been responsible for the "Peer Assist" process across the company - a keymechanism for mobilising and harnessing the knowledge in peoples' heads.

Geoff passionately believes that learning things together and sharing the outcome is a powerful way to work.
Conference Programme
08:30 - 09:00
Registration, coffee and networking
09:00 - 09:30
Introductions
Before we get started we'll spend some time introducing ourselves. We share best with those we know and trust. And we share best once we know what it is each other wants to know. So we'll spend some time getting to know who is in the room and what each of us most wants to know. We all have something to share and we all have something to learn from each other.
09:30 - 10:30
Presenting a knowledge based benchmarking approach
Chris and Geoff will present their holistic approach to knowledge management, starting with assessing strengths and priorities for learning in order to determine what to share. They'll cover setting the environment for sharing, processes for learning before, during and after, building and sharing knowledge assets, the role of communities and illuminating the approaches with examples from a variety of organizations. We'll hear experiences from others who have taken and adapted these techniques to their own context.
10:30 - 11:00
Coffee and networking
11:00 - 12:45

Sharing Experience
In this session you'll get chance to use the peer assist process to share your experience of one practice of knowledge management, coached and facilitated by Geoff and Chris. Prior to the meeting we will get each of you to self assess your organisation to determine your strengths and areas for improvement. The objective will be to identify common guidelines and determine concrete actions to improve the competency level in one of five KM practices.
12:45 - 14:00
Lunch, networking
14:00 - 15:15
Creating A Knowledge Asset
Too often we capture knowledge which is never reused by others. In this session you can practice synthesising knowledge in a way that makes it readily useful for the next person or team wanting to learn. We'll show you how to link the key principles to stories of real experience, to detailed resources and reusable artefacts, and to people who can help.
15:15 - 15:45
Coffee and networking
15:45 - 16:45
Sharing Knowledge
You have worked on one of five knowledge practices. Others in the room have worked on others. Here is chance to learn by following the other knowledge assets that have been constructed to quickly share the key principles. And you can add your experience too to what has already been captured.
16:45 - 17:15
Review of the Day
Creating the right environment is partly about giving people the time to reflect on what they have learned. Let's do an after action review together to learn from what has happened and spend a few minutes planning what concrete actions you will take away to your organisation.
17:15
Close, followed by drinks reception sponsored by Capstone Publishing
---
Registration
Attending this Event costs just £349+ VAT (discounts are available - see booking form) and includes:
Attendance at the event
A free copy of the book Learning to Fly and CD-ROM, signed by both Chris and Geoff
3 course lunch
Morning and afternoon refreshments