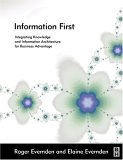 Information is seriously undervalued and underused as a corporate resource. The pressures of global competition and a growing dependence on information technology mean that the effective use of information is more important now than it has ever been. This book is a fundamental guide for unleashing information potential, by combining the discipline of information architecture with the power of knowledge management, to drive organizational changes.
<br><br>
Instead of unlocking the potential of information, people are drowning in detail. Current books only approach this subject from an information technology perspective. This book combines techniques from knowledge management and information architecture to provide a layer above the detail - techniques for seeing the big picture. <br><br>
<b>Features & Benefits</b><br>
<ul>
<li> Creates a clear picture of an organization and the way it works, by mapping the information and knowledge resource, showing where change is required and providing a plan to achieve it
<li> Streamline decision-making and action-taking by eliminating frustration and confusion
<li> Supports an information-based culture by maintaining the right infrastructures and constantly improving the use of the information resource
</ul>




Video: David Gurteen's keynote talk at KM Middle East 2011





David Gurteen's keynote talk at KM Middle East 2011, Abu Dhabi, UAE. Don't do KM.

Media Information:



You will find information on over 200 books on this website - books that relate to the themes of the site: knowledge, learning, creativity, innovation and personal development.

If you would like to receive an e-mail alert whenever I post information about a new book (i.e. one that has been published in the last 12 months) then please click on the button below and complete the form.



Information First (Sep 2003) by Roger Evernden

, Elaine Evernden


Integrating Knowledge and Information Architecture for Business Advantage



If you are interested in Knowledge Management, the

Knowledge Café

or the role of conversation in organizational life then you my be interested in this online book I am writing on

Conversational Leadership
Gurteen Knowledge Community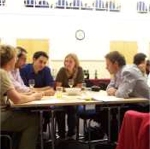 The Gurteen Knowledge Community is a global learning community of over 21,000 people in 160 countries across the world.

The community is for people who are committed to making a difference: people who wish to share and learn from each other and who strive to see the world differently, think differently and act differently.

Membership of the Gurteen Knowledge Community is free.
Knowledge Community