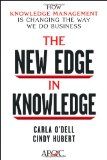 The best thinking and actions in the fast-moving arena of collaboration and knowledge management.

The New Edge in Knowledge captures the most practical, innovative practices to ensure organizations have the knowledge they need in the future and, more importantly, the ability to connect the dots and use knowledge to succeed today.

- Build or retrofit your organization for new ways of working and collaboration by using knowledge management
- Adapt to today's most popular ways to collaborate such as social networking
- Overcome organization silos, knowledge hoarding and "not invented here" resistance
- Take advantage of emerging technologies and mobile devices to build networks and share knowledge
- Identify what can be learned from Facebook, Twitter, Google and Amazon to make firms and people smarter, stronger and faster

Straightforward and easy-to-follow, this is the resource you'll turn to again and again to get-and stay-in the know. Plus, the book is filled with real-world examples and case studies of how best practice companies are achieving success with knowledge management.




Video: Clay Shirky: How cognitive surplus will change the world







You will find information on over 200 books on this website - books that relate to the themes of the site: knowledge, learning, creativity, innovation and personal development.

If you would like to receive an e-mail alert whenever I post information about a new book (i.e. one that has been published in the last 12 months) then please click on the button below and complete the form.



Rewarding and recognizing knowledge sharing
Posted to Gurteen Knowledge-Log by David Gurteen on 15 September 2002



The New Edge in Knowledge (Mar 2011) by Carla O'Dell

, Cindy Hubert


How Knowledge Management is Changing the Way We Do Business



APQC
American Productivity & Quality Center



APQC Knowledge Management Services

Carla O'Dell APQC, Chief Executive Officer



If you are interested in Knowledge Management, the

Knowledge Café

or the role of conversation in organizational life then you my be interested in this online book I am writing on

Conversational Leadership
Gurteen Knowledge Community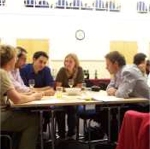 The Gurteen Knowledge Community is a global learning community of over 21,000 people in 160 countries across the world.

The community is for people who are committed to making a difference: people who wish to share and learn from each other and who strive to see the world differently, think differently and act differently.

Membership of the Gurteen Knowledge Community is free.
Knowledge Community