The World Wide Web Consortium (W3C) is an open forum of companies and organizations with the mission to lead the Web to its full potential by the development of interoperable technologies,specifications, guidelines, software, and tools.




Video: Clay Shirky: How cognitive surplus will change the world







Gurteen Knowledge Community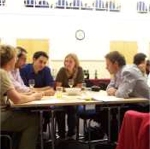 The Gurteen Knowledge Community is a global learning community of over 21,000 people in 160 countries across the world.

The community is for people who are committed to making a difference: people who wish to share and learn from each other and who strive to see the world differently, think differently and act differently.

Membership of the Gurteen Knowledge Community is free.
Knowledge Community