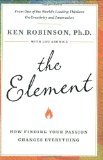 The element is the point at which natural talent meets personal passion. When people arrive at the element, they feel most themselves and most inspired and achieve at their highest levels. The Element draws on the stories of a wide range of people, from ex-Beatle Paul McCartney to Matt Groening, creator of The Simpsons; from Meg Ryan to Gillian Lynne, who choreographed the Broadway productions of Cats and The Phantom of the Opera; and from writer Arianna Huffington to renowned physicist Richard Feynman and others, including business leaders and athletes. It explores the components of this new paradigm: The diversity of intelligence, the power of imagination and creativity, and the importance of commitment to our own capabilities.

With a wry sense of humor, Ken Robinson looks at the conditions that enable us to find ourselves in the element and those that stifle that possibility. He shows that age and occupation are no barrier, and that once we have found our path we can help others to do so as well. The Element shows the vital need to enhance creativity and innovation by thinking differently about human resources and imagination. It is also an essential strategy for transforming education, business, and communities to meet the challenges of living and succeeding in the twenty-first century.


error


You will find information on over 200 books on this website - books that relate to the themes of the site: knowledge, learning, creativity, innovation and personal development.

If you would like to receive an e-mail alert whenever I post information about a new book (i.e. one that has been published in the last 12 months) then please click on the button below and complete the form.






Ken Robinson again
Posted to Gurteen Knowledge-Log by David Gurteen on 25 May 2010



The Element by Ken Robinson


How Finding Your Passion Changes Everything



If you are interested in Knowledge Management, the

Knowledge Café

or the role of conversation in organizational life then you my be interested in this online book I am writing on

Conversational Leadership
Gurteen Knowledge Community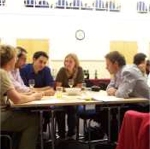 The Gurteen Knowledge Community is a global learning community of over 21,000 people in 160 countries across the world.

The community is for people who are committed to making a difference: people who wish to share and learn from each other and who strive to see the world differently, think differently and act differently.

Membership of the Gurteen Knowledge Community is free.
Knowledge Community