Call for Papers for TAKE 2018 – an Multidisciplinary Conference on Theory and Applications in the Knowledge Economy.
TAKE 2018 will be held at the Poznan University of Economics and Business, Poland (http://ue.poznan.pl/en/) between the 11th and 13th of July of 2018,
The Poznan University of Economics and Business is one of the oldest, most prestigious schools of economics in Poland. Since 1926, we have been continually developing higher education and ensuring high quality of scientific studies and constant development of research infrastructure. We prepare numerous economic expert reports and implement innovative projects. High-quality education, which we have provided for years, allows our students and graduates to successfully face the challenges of a dynamic labour market.
The website of the Conference is http://www.take-conference2018.com/.
For this conference we have gathered together a team of 19 scholars from 11 countries (Austria, Canada, Croatia, Finland, Germany, Poland Portugal, Romania, South Africa,, Sweden and USA), that will assure the development of 17 streams, in different areas of the topic Theory and Applications in the Knowledge Economy. Detailed information about the streams may be found in the website.
TAKE 2018 will be organized in collaboration of University of Zagreb, Faculty of Economics and Business (Croatia); GOVCOPP, Universidade de Aveiro (Portugal) and E4 Conferences Scientific Organization. TAKE 2018 will also co-managed by GOVCOPP the research centre on Public Policies classified with Excellent by the Portuguese Foundation for Science and Technology in 2015. TAKE 2018 will be also managed by E4 Conferences Scientific Organization a company specialized in organizing international conferences.
Up to now we guaranteed the presence of five keynote speakers namely Gary Mc Lean (USA), Constantin Bratianu (Romania) Blazenka Knezevic (Croatia) Jan Fazlagić and Marzenna Weresa (both from Poland). Detailed information about these people may be found in the website.
The deadline for abstracts is February 15th. Papers should be sent by April 15th. Templates for submission are found in the Conference website. Submissions should be sent to [email protected].
Upon peer-review process, selected papers will be published in the Conference Proceedings (with ISBN reference). Proceedings will be sent to the Web of Science for ISI and SCOPUS indexing immediately after the conference. Only full papers will be published in the Proceedings. A book of abstract will be also published, just in case some participants do not want to see their full paper included in the Proceedings because of copyright related reasons.
Supporting Journals include: International Journal of Knowledge-Based Development European Journal of Training and Development Competitiveness Review, Management Dynamics in the Knowledge Economy Internal Trade Journal Business Excellence Journal Entrepreneurial Business and Economics Review (EBER)
We hope to meet in July !
See you in Poznan !
The Conference Team



Video: David Gurteen's keynote talk at KM Middle East 2011





David Gurteen's keynote talk at KM Middle East 2011, Abu Dhabi, UAE. Don't do KM.

Media Information:



You will find information on hundreds of events such as conferences, workshops and courses on this website - events that relate to the themes of the site: knowledge, learning, creativity, innovation and personal development.

If you would like to receive an e-mail alert, no more than once a week, that informs you of recently posted events in your region then please click on the button below and complete the form. You also have the option of being reminded once a week of events coming up in your region within the next month.




On the other hand you may prefer to subscribe to an RSS Feed that will keep you informed of events in your region.
If you are interested in Knowledge Management, the
Knowledge Café
or the role of conversation in organizational life then you my be interested in this online book I am writing on
Conversational Leadership
David Gurteen

I help people to share their knowledge; to learn from each other; to innovate and to work together effectively to make a difference!
How to contact me
My Blog
Gurteen Knowledge Community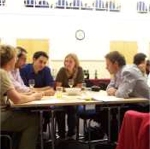 The Gurteen Knowledge Community is a global learning community of over 21,000 people in 160 countries across the world.

The community is for people who are committed to making a difference: people who wish to share and learn from each other and who strive to see the world differently, think differently and act differently.

Membership of the Gurteen Knowledge Community is free.
Knowledge Community