The Scottish Knowledge Management Network collaboration space was set up to provide a means for people based in Scotland (particularly in the public sector) who want to share learning, expertise and work together to enable all of our organisations to get better at collaborative working; capturing and sharing expertise and knowledge; and encouraging learning and innovation. This is a learning environment, based on openness, discretion, trust, respect & a willingness to both contribute and share, and encourage others to participate.




Flickr Slideshow: ECKM 2007, Barcelona, September 2007





Photo slideshow of ECKM 2007,

8th European Conference on Knowledge Management

in Barcelona, Spain on 6-7 September 2007.

Media Information:



Gurteen Knowledge Community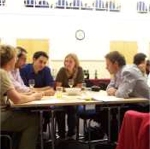 The Gurteen Knowledge Community is a global learning community of over 21,000 people in 160 countries across the world.

The community is for people who are committed to making a difference: people who wish to share and learn from each other and who strive to see the world differently, think differently and act differently.

Membership of the Gurteen Knowledge Community is free.
Knowledge Community