The platform of knowledge management (PWM) is the leading community for knowledge management in Austra, It is independent, multidisciplinary, non-commercial.

Its members have set themselves the goal of promoting knowledge management to provide interested parties an overview and building up the momentum.

The PWM is a space for interaction, content and solutions. The members make the PWM and increase their knowledge by sharing.




Video: What is Innovation?



O que David Gurteen pensa sobre inovação from iGovSP - O que você pensa? on Vimeo.

– David Gurteen é consultor na área de gestão do conhecimento. Ele fundou o Gurteen Knowledge Community (Comunidade de Conhecimento) um ambiente de aprendizagem e troca de conhecimento e experiências composto por mais de 14.000 pessoas espalhadas em 153 países diferentes. Nesse vídeo, Gurteen fala o que pensa sobre inovação.





Gurteen Knowledge Community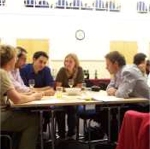 The Gurteen Knowledge Community is a global learning community of over 21,000 people in 160 countries across the world.

The community is for people who are committed to making a difference: people who wish to share and learn from each other and who strive to see the world differently, think differently and act differently.

Membership of the Gurteen Knowledge Community is free.
Knowledge Community