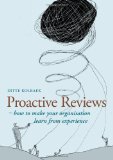 Book Description:

This book is for practitioners.

The target group is employees and managers in knowledgebased organizations such as pharmaceutical companies, engineering consultants, and IT businesses, and I feel quite convinced that public sector organisations such as hospitals or the police could benefit from adopting the methods introduced here as well.

The size of the organisation is not crucial; however what is crucial is the need to learn from experience.

The more the organisation depends on information and development, the more important it is that the relevant employees are able to create this knowledge as fast as possible. Managers who are looking for a method for knowledge sharing and knowledge creation can just read chapters one and two.

The remaining chapters go into more details and are aimed at employees and managers who are to run the process of Proactive Reviews within their organisation.

David Gurteen, Director, Gurteen Knowledge: The Proactive Review is the one of simplest and most effective of all knowledge sharing tools. The is book is a highly practical handbook that explains the review process in detail. If you wish to help the people in your organisation to more effectively share their knowledge with each other then read this book.

Wayne Watters, Vice President for Organizational Development, Oracle EMEA: The structured process of a Proactive Review - in which a facilitator guides the discussion reveals information, challenges, and observations that otherwise may not have been explicitly understood or addressed during the actual activities.




Video: David Gurteen on the best circumstances for thriving innovation





David Gurteen on the best circumstances for thriving innovation.

The Institute for Research and Innovation in Social Services (IRISS)

, Glasgow.

Media Information:



You will find information on over 200 books on this website - books that relate to the themes of the site: knowledge, learning, creativity, innovation and personal development.

If you would like to receive an e-mail alert whenever I post information about a new book (i.e. one that has been published in the last 12 months) then please click on the button below and complete the form.



Proactive Reviews
Posted to Gurteen Knowledge-Log by David Gurteen on 25 June 2011



Proactive reviews - the questions
Posted to Gurteen Knowledge-Log by David Gurteen on 20 January 2013



Proactive Reviews (Jan 2012) by Ditte Kolbęk


How to make your organisation learn from experience



If you are interested in Knowledge Management, the

Knowledge Café

or the role of conversation in organizational life then you my be interested in this online book I am writing on

Conversational Leadership
Gurteen Knowledge Community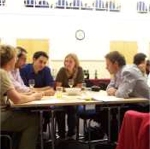 The Gurteen Knowledge Community is a global learning community of over 21,000 people in 160 countries across the world.

The community is for people who are committed to making a difference: people who wish to share and learn from each other and who strive to see the world differently, think differently and act differently.

Membership of the Gurteen Knowledge Community is free.
Knowledge Community