The Open Knowledge Foundation was founded in 2004 with the simple aim of promoting and protecting open knowledge in the belief that more open approaches to the production and distribution of knowledge have far-reaching social and commercial benefits.




Flickr Slideshow: Singapore Knowledge Cafe, November 2006





Photo slideshow of the Singapore Knowledge Cafe, November 2006 that I ran at the

National Library Board

in Singapore

Media Information:



Gurteen Knowledge Community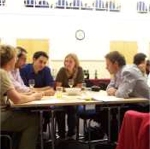 The Gurteen Knowledge Community is a global learning community of over 21,000 people in 160 countries across the world.

The community is for people who are committed to making a difference: people who wish to share and learn from each other and who strive to see the world differently, think differently and act differently.

Membership of the Gurteen Knowledge Community is free.
Knowledge Community