Tomorrow's learning is about ownership. We will own our learning. We will control what, where, when and how we learn. We will access, link, combine, interpret and interact with knowledge. We will be empowered as never before. We will make learning work for us. OEB 2016 is all about the new world of the empowered learner - a world in which learning is owned by learners. OEB has been widely recognised as one of the world's most exciting, challenging and inspirational education conferences and the meeting place for learning and technology professionals from the corporate, education and public sectors. The event brings together over 2,300 participants from around the world to take part in workshops, plenaries, discussions, debates, labs, demonstrations and performances. The conference also includes an exhibition, showcasing developments in education and training-related technology. With experts from 80+ countries sharing insights, a diverse perspective on this year's overall theme Owning Learning and the new world of the empowered learner is guaranteed.



Video: Clay Shirky: How cognitive surplus will change the world







You will find information on hundreds of events such as conferences, workshops and courses on this website - events that relate to the themes of the site: knowledge, learning, creativity, innovation and personal development.

If you would like to receive an e-mail alert, no more than once a week, that informs you of recently posted events in your region then please click on the button below and complete the form. You also have the option of being reminded once a week of events coming up in your region within the next month.




On the other hand you may prefer to subscribe to an RSS Feed that will keep you informed of events in your region.
If you are interested in Knowledge Management, the
Knowledge Café
or the role of conversation in organizational life then you my be interested in this online book I am writing on
Conversational Leadership
Gurteen Knowledge Community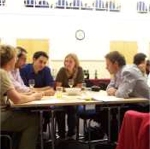 The Gurteen Knowledge Community is a global learning community of over 21,000 people in 160 countries across the world.

The community is for people who are committed to making a difference: people who wish to share and learn from each other and who strive to see the world differently, think differently and act differently.

Membership of the Gurteen Knowledge Community is free.
Knowledge Community