Melcrum is a research and information company with offices in London and Chicago.

Through their publications, research, training materials and seminars, they gather best practices from businesses around the world to help practitioners make better business decisions.




Video: Clay Shirky: How cognitive surplus will change the world







Link
Melcrum
Research & information company with offices in London & Chicago
Gurteen Knowledge Community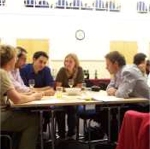 The Gurteen Knowledge Community is a global learning community of over 21,000 people in 160 countries across the world.

The community is for people who are committed to making a difference: people who wish to share and learn from each other and who strive to see the world differently, think differently and act differently.

Membership of the Gurteen Knowledge Community is free.
Knowledge Community