The conference is preceded by one day of free tutorials for participants who wish to learn state of the art of research relating to the topics of KMO and LTEC. The tutorials will be held on the 4th September, 2017. The conference itself commences on the 5th September, 2017. The 6th International conference on Learning Technology for Education Challenges (LTEC 2017) will be held conjunction with KMO 2017. It will provide the scientific community with a dedicated forum for discussing research and presentation of your work. New technologies have a powerful influence on all aspects of our society including education. Many technologies have an impact on the way we teach and learn. New mobile devices (e.g., smartphones and tablets) increase student engagement with applications such as mobile augmented reality. Social networks and web 2.0 tools enable students to take a more active role in their own education, allowing them to become educational "prosumers" (i.e., both producers and consumers). Gamification, automation, big data, cloud education, MOOCs (Massive Open Online Course), Social Learning, Adaptive Learning, Immersive Learning, mLearning, Personalised learning and responsiveness are just some of the hot topics that we'll all be talking about. There is much research that shows learning technology has the potential to improve learning. Besides technologies, there are also new pedagogical advances in learning and teaching.



Video: Clay Shirky: How cognitive surplus will change the world







You will find information on hundreds of events such as conferences, workshops and courses on this website - events that relate to the themes of the site: knowledge, learning, creativity, innovation and personal development.

If you would like to receive an e-mail alert, no more than once a week, that informs you of recently posted events in your region then please click on the button below and complete the form. You also have the option of being reminded once a week of events coming up in your region within the next month.




On the other hand you may prefer to subscribe to an RSS Feed that will keep you informed of events in your region.
If you are interested in Knowledge Management, the
Knowledge Café
or the role of conversation in organizational life then you my be interested in this online book I am writing on
Conversational Leadership
Gurteen Knowledge Community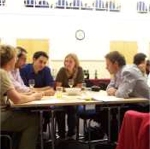 The Gurteen Knowledge Community is a global learning community of over 21,000 people in 160 countries across the world.

The community is for people who are committed to making a difference: people who wish to share and learn from each other and who strive to see the world differently, think differently and act differently.

Membership of the Gurteen Knowledge Community is free.
Knowledge Community