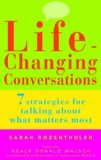 • A REVOLUTIONARY 7-POINT PROGRAMME TO GIVE YOU THE CONFIDENCE AND KNOW-HOW TO HAVE A MEANINGFUL CONVERSATION
• SHOWS REAL-LIFE CASE STUDIES OF ORDINARY PEOPLE WHO HAVE TRANSFORMED THEIR LIVES THROUGH FINDING A WAY TO TALK IN CRITICAL SITUATIONS
• EXPLAINS HOW CHANGING THE CONVERSATION YOU ARE HAVING WITH OTHERS – AND WITH YOURSELF - CAN CHANGE YOUR LIFE

Talk is our key action tool for moving forward at work and in our personal life, yet how often do we feel we've missed crucial opportunities or failed in our communication?

This book explains why effective talk can be truly transformative and provides a practical guide to having the kinds of conversations that will turn your life around. Expert psychologist and coach Sarah Rozenthuler provides the seven keys to success: calling up your courage, creating a "container", focusing on your intention, connecting with respect, speaking your truth, surrendering your "story", and finding closure.

Throughout the book you will find real-life examples of problem situations, including healing family rifts, standing up for yourself at work and resolving relationship difficulties.

The author shows through extended sample dialogue how, in each case, a challenging situation was worked through and a positive result achieved. Improving our effectiveness at having good conversations is the single most important way to bring about positive change in our lives.
Engaging and practical, this book will show you how to put theory into action and have conversations that will move your life forward.

Sarah Rozenthuler is an organisational consultant and chartered psychologist with over 10 years' experience working in the private and public sectors. She has designed and facilitated conversations at senior levels for a wide range of global clients including the World Bank, BP and the BBC in Europe and USA.




You will find information on over 200 books on this website - books that relate to the themes of the site: knowledge, learning, creativity, innovation and personal development.

If you would like to receive an e-mail alert whenever I post information about a new book (i.e. one that has been published in the last 12 months) then please click on the button below and complete the form.






Life-Changing Conversations (Mar 2012) by Sarah Rozenthuler


7 strategies for talking about what matters most



If you are interested in Knowledge Management, the

Knowledge Café

or the role of conversation in organizational life then you my be interested in this online book I am writing on

Conversational Leadership
Gurteen Knowledge Community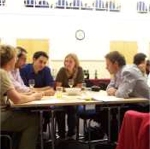 The Gurteen Knowledge Community is a global learning community of over 21,000 people in 160 countries across the world.

The community is for people who are committed to making a difference: people who wish to share and learn from each other and who strive to see the world differently, think differently and act differently.

Membership of the Gurteen Knowledge Community is free.
Knowledge Community