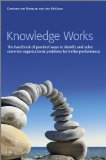 From the Inside Flap:

This is a book for anyone who wants to make a difference through using knowledge as a source of organizational energy and distinctiveness. It provides practical guidance in a highly accessible format to busy managers, strategists, knowledge managers, HR managers and OD professionals to improve the way knowledge is used to solve common problems.

With a multitude of tools, techniques and frameworks to help you make sense of what's happening and create clear action plans, the book shows you how can help your organization to:


identify priorities
become both more efficient and more innovative
increase the capacity to learn and be more agile
make change stick


The content is the product of ten years of thinking and researching within Henley Business School's Knowledge Management Forum. Some of the sharpest and most incisive minds in the field - those whose job is to deliver better results by creating, sharing and using knowledge in organizations - worked together with us to create it.

More resources and discussions around practical application of the material can be found at http://www.knowledgeworkshandbook.com




You will find information on over 200 books on this website - books that relate to the themes of the site: knowledge, learning, creativity, innovation and personal development.

If you would like to receive an e-mail alert whenever I post information about a new book (i.e. one that has been published in the last 12 months) then please click on the button below and complete the form.






Knowledge Works (Jun 2011) by Christine Van Winkelen

, Jane McKenzie


The Handbook of Practical Ways to Identify and Solve Common Organizational Problems for Better Performance



If you are interested in Knowledge Management, the

Knowledge Café

or the role of conversation in organizational life then you my be interested in this online book I am writing on

Conversational Leadership
Gurteen Knowledge Community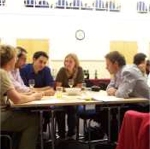 The Gurteen Knowledge Community is a global learning community of over 21,000 people in 160 countries across the world.

The community is for people who are committed to making a difference: people who wish to share and learn from each other and who strive to see the world differently, think differently and act differently.

Membership of the Gurteen Knowledge Community is free.
Knowledge Community