The journal includes both theoretical and practical aspects, and especially the relationship between the two. There is a particular emphasis on cross-disciplinary approaches, and on the mixing of "hard" (e.g. technological) and "soft" (e.g. cultural or motivational) issues. Rigorous contributions from both academics and practitioners are welcomed.

KMRP provides:
A single focus for this rapidly evolving and multidisciplinary field
A bridge between research and practice
A broad global perspective.
http://www.palgrave-journals.com/kmrp


Would you like to learn how to run a Knowledge Café?
If so, I am running a Knowledge Café Masterclass with CILIP in central London on Thursday 1st November 2018.
You can find full information here: 
https://www.cilip.org.uk/page/KnowledgeCafe
David Gurteen

I help people to share their knowledge; to learn from each other; to innovate and to work together effectively to make a difference!
How to contact me
My Blog
Gurteen Knowledge Community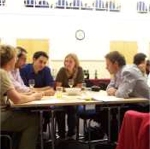 The Gurteen Knowledge Community is a global learning community of over 21,000 people in 160 countries across the world.

The community is for people who are committed to making a difference: people who wish to share and learn from each other and who strive to see the world differently, think differently and act differently.

Membership of the Gurteen Knowledge Community is free.
Knowledge Community