KMO in Organizations has been one the most important Knowledge Management conferences over the last eight years in Asia and Europe.

Previous conferences have been held in Slovenia, Italy, Finland, Hungary, Japan, Spain and Taiwan.

Knowledge is increasingly recognised as the most important resource in organizations and a key differentiating factor in business today. It is increasingly being acknowledged that Knowledge Management (KM) can bring about the much needed innovation and improved business performance in organizations.

Knowledge management plays a crucial role in the development of sustainable competitive advantage through innovation in services. In recent years, social computing and big data are becoming popular topics that extend the research to knowledge management. One of the goals of knowledge management is the ability to integrate information from multiple perspectives to provide the insights required for valid decision-making.

There are various new trends related to Knowledge Management like Big data, crowdsourcing, sustainable innovation and social media and business analytics that provides unique challenges and opportunities for researchers.



Gurteen Knowledge Community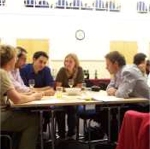 The Gurteen Knowledge Community is a global learning community of over 21,000 people in 160 countries across the world.

The community is for people who are committed to making a difference: people who wish to share and learn from each other and who strive to see the world differently, think differently and act differently.

Membership of the Gurteen Knowledge Community is free.
Knowledge Community