This is a list composed by Bill Proudfit of one-off KM and related events primarily in Hong Kong, Macau and China but occasionally farther afield.




Flickr Slideshow: Jakarta visit April 2007





Gurteen Knowledge Community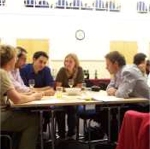 The Gurteen Knowledge Community is a global learning community of over 21,000 people in 160 countries across the world.

The community is for people who are committed to making a difference: people who wish to share and learn from each other and who strive to see the world differently, think differently and act differently.

Membership of the Gurteen Knowledge Community is free.
Knowledge Community