Knowledge Management for Development (KM4Dev) is a community of international development practitioners who are interested in knowledge management and knowledge sharing issues and approaches.

Theirmain communication forum is the KM4dev Dgroup. To join the discussion, send a blank email to: join.km4dev-l@dgroups.org




Video: Web 2.0 for public officials.





David Gurteen discute as influências da web 2.0. para os funcionários públicos e as mudanças no relacionamento entre os níveis hierárquicos. (David Gurteen discusses the influences of web 2.0. for public officials.) Filmed at KM Brasil 2008.

Media Information:



Gurteen Knowledge Community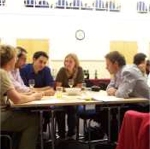 The Gurteen Knowledge Community is a global learning community of over 21,000 people in 160 countries across the world.

The community is for people who are committed to making a difference: people who wish to share and learn from each other and who strive to see the world differently, think differently and act differently.

Membership of the Gurteen Knowledge Community is free.
Knowledge Community