What do knowledge management practitioners need to know to be successful? What competencies define the profession?

Those are not easy questions to answer, no matter how long you've been in the field. Yet we are at a significant juncture in the evolution of this young profession and this emerging domain when the need for consensus on these issues has never been more critical. To that end, Kent State University and George Washington University are pleased to invite you to participate in the first Knowledge Management Education Forum, what we envision will become an on-going, annual dialog to identify and grow consensus on the knowledge management body of knowledge, competencies, roles and curriculum. Forum overview

The Knowledge Management Education Forum will consist of three components:

(1) A weekly series of free webinars supported by Kent State University from Tuesday, March 1, through Tuesday, May 3, 2011, including both invited speaker presentations and contributed presentations.

Scheduled presenters include notable KM community thought-leaders such as Dr. Annie Green and Dr. Michael Stankosky (George Washington University), Dr. Jay Liebowitz (University of Maryland), Dr. Alex Bennett (Mountain Quest Institute), Dr. Suleiman Hamadweh (Univ. of North Texas) Doug Weidner (Center for Knowledge Management), and Dr. Franz Barachini (Vienna International School of Thought). The complete schedule can be found at http://kmatkent.cim3.net.

(2) An in-person Forum event at George Washington University on May 5-6 which will identify areas where consensus has been achieved and support the publication of a formal KMEF communiqué. The in-person meeting has been scheduled to coincide with the 12th Annual Knowledge Management Conference and Exhibition (May 2-4, 2011) in Washington, D.C.

(3) A persistent community website which will support ongoing dialogs, a library of contributed works and presentations, and ongoing events proposed by the members of the knowledge management community http://kmatkent.cim3.net.

The case for consensus

The increased focus on the knowledge economy has heightened interest in knowledge management as a profession, an occupation and its essential competencies. Many believe that it is time to acknowledge that Knowledge Management is a professional area of practice and to begin a formal discussion of the educational foundation needed to support this area of professional practice. While there is a wealth of published and informal literature, thought derived from practice, and dialog on these topics, a consensus on what constitutes the core elements of knowledge management competencies and knowledge management education is lacking.

A consensus is needed among those who are currently providing training, teaching knowledge management courses, supporting knowledge management programs and departments. This consensus needs to be informed and supported by knowledge professionals who are currently working in knowledge roles today. In addition, as with all professional domains, the knowledge management domain needs to be continuously reviewed and refreshed by professional educators and working professionals.

The goal of the KM Education Forum is to create an environment in which this consensus can evolve. It aims to bring together the current and past thought leaders in the field of knowledge management to discuss their work, and to open the dialog where others can contribute. We envision the Forum as an ongoing, annual dialog that will mirror this emerging profession.

Additional details and registration information can be found at http://kmatkent.cim3.net. We look forward to your contributions to this important effort.

Dr. Denise Bedford Goodyear Professor of Knowledge Management Kent State University

Dr. Annie Green Assistant Professorial Lecturer, George Washington University Principal, Institute of Knowledge and Innovation Adjunct Faculty, Kent State University Knowledge Management Practice Lead, Keane Federal Systems, Washington D.C.




Video: Talk with David Gurteen about his Knowledge Cafe in Amsterdam 2009







If you are interested in Knowledge Management, the
Knowledge Café
or the role of conversation in organizational life then you my be interested in this online book I am writing on
Conversational Leadership
Gurteen Knowledge Community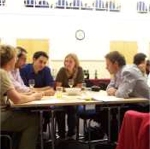 The Gurteen Knowledge Community is a global learning community of over 21,000 people in 160 countries across the world.

The community is for people who are committed to making a difference: people who wish to share and learn from each other and who strive to see the world differently, think differently and act differently.

Membership of the Gurteen Knowledge Community is free.
Knowledge Community