Knowledge Economy Forum "KEF" is a think tank platform, committed to leveraging the awareness of the governments at MENA region about their contemporary roles in the 21st century from knowledge economy perspective by brings the pioneers experts in varies related disciplines for up to two days to shape regional agendas and discuss the most pressing issues.

The Forum held every two years , co-hosted with General Secretariat of the Supreme Council for Planning and Development, discuss the most pressing topics that helps the governments to bridge the technologies and knowledge gaps in a world driven by new technologies fusing which creating radically new approaches that revolutionize the way in which nations, societies and businesses engage and collaborate.

The KEF serves as a primer and guide, equipping governments to grapple with all aspects related to transforming into knowledge economy. The main topics that will be discussed at Forum 2018 are:

1) Government roles in the 21th century
2) Digital Revolution and governments vision
3) Internet of Things applications within the public sector
4) 3D printing in government services
5) Industrial Internet
6) Big Data
7) Digital Learning



Video: David Gurteen on the best circumstances for thriving innovation





David Gurteen on the best circumstances for thriving innovation.

The Institute for Research and Innovation in Social Services (IRISS)

, Glasgow.

Media Information:



You will find information on hundreds of events such as conferences, workshops and courses on this website - events that relate to the themes of the site: knowledge, learning, creativity, innovation and personal development.

If you would like to receive an e-mail alert, no more than once a week, that informs you of recently posted events in your region then please click on the button below and complete the form. You also have the option of being reminded once a week of events coming up in your region within the next month.




On the other hand you may prefer to subscribe to an RSS Feed that will keep you informed of events in your region.
If you are interested in Knowledge Management, the
Knowledge Café
or the role of conversation in organizational life then you my be interested in this online book I am writing on
Conversational Leadership
David Gurteen

I help people to share their knowledge; to learn from each other; to innovate and to work together effectively to make a difference!
How to contact me
My Blog
Gurteen Knowledge Community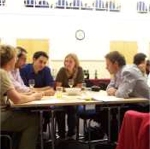 The Gurteen Knowledge Community is a global learning community of over 21,000 people in 160 countries across the world.

The community is for people who are committed to making a difference: people who wish to share and learn from each other and who strive to see the world differently, think differently and act differently.

Membership of the Gurteen Knowledge Community is free.
Knowledge Community