Ther mission of the Knowledge Globalization Instiutute is to make educational and economic opportunities available to all by using internet media to share global knowledge, conduct educational initiatives, and enhance learning activities worldwide. They believe that these activities will result in the reduction of the "knowledge gap" between developed and developing nations.




Video Playlist: Anthony de Mello







Gurteen Knowledge Community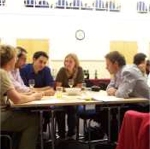 The Gurteen Knowledge Community is a global learning community of over 21,000 people in 160 countries across the world.

The community is for people who are committed to making a difference: people who wish to share and learn from each other and who strive to see the world differently, think differently and act differently.

Membership of the Gurteen Knowledge Community is free.
Knowledge Community