Gurteen Community Cafés are learning communities. And are the regular meetings of the Gurteen Knowledge Community.

Their purpose is to bring people together to learn from each other in order that they may make a difference.

Gurteen Community Cafés are mini-workshops where the participants engage in the theme of the evening. They are about networking, knowledge sharing and learning from each other - not chalk-and-talk.

The outcome for the participants is what they take away as individuals that they can act on and do differently - immediately!

You will find a full list of regional knowledge cafes below.



Gurteen Community Cafés are the regular meetings of the Gurteen Knowledge Community.

Their purpose is to bring people together to learn from each other in order that they may make a difference.

If you would like to be kept informed by e-mail of community cafes in your region then please click the button below:








If you are interested in Knowledge Management, the

Knowledge Café

or the role of conversation in organizational life then you my be interested in this online book I am writing on

Conversational Leadership
David Gurteen

I help people to share their knowledge; to learn from each other; to innovate and to work together effectively to make a difference!
How to contact me
My Blog
Gurteen Knowledge Community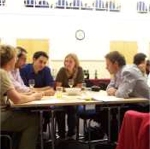 The Gurteen Knowledge Community is a global learning community of over 21,000 people in 160 countries across the world.

The community is for people who are committed to making a difference: people who wish to share and learn from each other and who strive to see the world differently, think differently and act differently.

Membership of the Gurteen Knowledge Community is free.
Knowledge Community