This is an annual conference held by JEKPOT SRL in Italy in October.

Knowledge Management is the key to increase the competitiveness in organizations and the professional competencies of related collaborators. Knowledge Management Forum since 13 editions is the meeting on the cultural, organizational and technological innovations to spread knowledge management.

The goal of the KM Forum is to collect the best original practice on knowledge management, from a cultural, organizational and technological point of view through case study presentation and papers talking about knowledge management scenarios, strategies, methodologies, technologies, applications, processes, focus on, solutions, best practice, experiences able to increase the competitiveness od organizations and the professionality of his collaborators managing knowledge.

Best papers will be published on KappaeMme, a magazine on managing and communicating organizational knowledge edited by JEKPOT, the Knowledge Management Company.



Gurteen Knowledge Community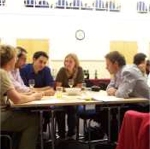 The Gurteen Knowledge Community is a global learning community of over 21,000 people in 160 countries across the world.

The community is for people who are committed to making a difference: people who wish to share and learn from each other and who strive to see the world differently, think differently and act differently.

Membership of the Gurteen Knowledge Community is free.
Knowledge Community