The British Chapter of ISKO, ISKO UK, was established in February 2007.




Flickr Slideshow: KM Asia, November 2006, Singapore





Link
ISKO UK
Past Event
Taming the news beast
Finding value and context in text and data
01 Apr 2014, ISKO UK
University College London, London, United Kingdom
Making metadata work
23 Jun 2014, ISKO UK
London, United Kingdom
Knowlege organization goes mobile
Wed 05 Nov 2014, ISKO UK
City University, London, United Kingdom
The Great Debate
This House believes that the traditional thesaurus has no place in modern information retrieval
Thu 19 Feb 2015, ISKO UK
British Dental Association, London, United Kingdom
ISKO UK Biennial Conference 2015
Knowledge Organization – Making a difference
13 - 14 Jul 2015, ISKO UK
University College (UCL), London, United Kingdom
Gurteen Knowledge Community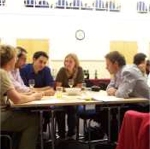 The Gurteen Knowledge Community is a global learning community of over 21,000 people in 160 countries across the world.

The community is for people who are committed to making a difference: people who wish to share and learn from each other and who strive to see the world differently, think differently and act differently.

Membership of the Gurteen Knowledge Community is free.
Knowledge Community