Information Today, Inc. (ITI) is the publisher of Information Today, as well as other periodicals, books, directories, and online products; and is the organizer of InfoToday and other prestigious conferences and exhibitions for the library, information & knowledge management community.  Our goal is to provide users and producers of information, knowledge and content management products and services with the information they need to do their jobs as effectively as possible. We welcome your suggestions for new products and services as well as comments on existing ones.




Video: Knowledge Cafe Masterclass, Copenhagen 2011







Would you like to learn how to run a Knowledge Café?
If so, I am running a Knowledge Café Masterclass with CILIP in central London on Thursday 1st November 2018.
You can find full information here: 
https://www.cilip.org.uk/page/KnowledgeCafe
David Gurteen

I help people to share their knowledge; to learn from each other; to innovate and to work together effectively to make a difference!
How to contact me
My Blog
Gurteen Knowledge Community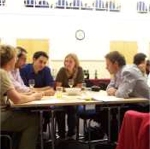 The Gurteen Knowledge Community is a global learning community of over 21,000 people in 160 countries across the world.

The community is for people who are committed to making a difference: people who wish to share and learn from each other and who strive to see the world differently, think differently and act differently.

Membership of the Gurteen Knowledge Community is free.
Knowledge Community