The Chartered Management Institute is the UK's leading professional body for managers. It embraces 85,000 individual members and 600 corporate partners, representing approximately three million employees, making it the largest broadly based management institute in the UK. Members come from all sectors, both public and private, and all levels of responsibility.




Video: Web 2.0 for public officials.





David Gurteen discute as influências da web 2.0. para os funcionários públicos e as mudanças no relacionamento entre os níveis hierárquicos. (David Gurteen discusses the influences of web 2.0. for public officials.) Filmed at KM Brasil 2008.

Media Information:



Would you like to learn how to run a Knowledge Café?
If so, I am running a Knowledge Café Masterclass with CILIP in central London on Thursday 1st November 2018.
You can find full information here: 
https://www.cilip.org.uk/page/KnowledgeCafe
David Gurteen

I help people to share their knowledge; to learn from each other; to innovate and to work together effectively to make a difference!
How to contact me
My Blog
Gurteen Knowledge Community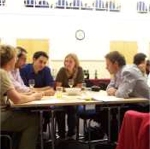 The Gurteen Knowledge Community is a global learning community of over 21,000 people in 160 countries across the world.

The community is for people who are committed to making a difference: people who wish to share and learn from each other and who strive to see the world differently, think differently and act differently.

Membership of the Gurteen Knowledge Community is free.
Knowledge Community