Ikujiro Nonaka is the Xerox Distinguished Professor in Knowledge at the Haas School of Business at the University of California, Berkeley. He is also the Founding Dean of the Graduate School of Knowledge Science at the Japan Advanced Institute of Science and Technology (JAIST).

He has authored and coauthored several books, including The Knowledge-Creating Company with Hirotaka Takeuchi . He has also written articles in academic and managerial journals both in Japan and overseas. He edits several international journals and designs international seminars for managers.


| | |
| --- | --- |
| Google Video Search | Loading... |

Enabling Knowledge Creation (May 2000) by Georg Von Krogh

, Kazuo Ichijo

, Ikujiro Nonaka
How to Unlock the Mystery of Tacit Knowledge and Release the Power of Innovation



Hitotsubashi on Knowledge Management (Jan 2004) by Hirotaka Takeuchi

, Ikujiro Nonaka



Knowledge Horizons (2000) by Charles Despres

, Daniele Chauvel


The Present and the Promise of Knowledge Management



The Knowledge-Creating Company (1995) by Ikujiro Nonaka, Hirotaka Takeuchi


How Japanese Companies Create the Dynamics of Innovation



Ikujiro Nonaka Professor in Knowledge at the Haas School of Business



If you are interested in Knowledge Management, the

Knowledge Café

or the role of conversation in organizational life then you my be interested in this online book I am writing on

Conversational Leadership
Gurteen Knowledge Community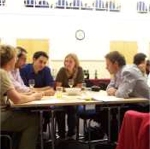 The Gurteen Knowledge Community is a global learning community of over 21,000 people in 160 countries across the world.

The community is for people who are committed to making a difference: people who wish to share and learn from each other and who strive to see the world differently, think differently and act differently.

Membership of the Gurteen Knowledge Community is free.
Knowledge Community