The 13th International Conference on Knowledge Management (ICKM) provides academics, researchers, developers and practitioners from all over the world a forum for discussion and exchange of ideas concerning theoretical and practical aspects of Knowledge Management. Since the first ICKM conference was held in Singapore in 2004, subsequent conferences have been held in Charlotte, North Carolina 2006; Greenwich, London 2006; Vienna, Austria 2007; Columbus, Ohio 2008; Hong Kong 2009; Pittsburgh, Pennsylvania 2010; Johannesburg, South Africa 2012; Montreal, Canada 2013; Antalya, Turkey 2014; Osaka, Japan 2015; Vienna, Austria in 2016. ICKM 2017 will be held in Dallas, Texas and hosted by the Knowledge and Information Professional Association (http://kipanet.org/). The main theme of the conference is "Big Data in the Big D".



Video: David Gurteen on how to best secure continuous innovation





David Gurteen on how to best secure continuous innovation.

The Institute for Research and Innovation in Social Services (IRISS)

, Glasgow.

Media Information:



You will find information on hundreds of events such as conferences, workshops and courses on this website - events that relate to the themes of the site: knowledge, learning, creativity, innovation and personal development.

If you would like to receive an e-mail alert, no more than once a week, that informs you of recently posted events in your region then please click on the button below and complete the form. You also have the option of being reminded once a week of events coming up in your region within the next month.




On the other hand you may prefer to subscribe to an RSS Feed that will keep you informed of events in your region.
Would you like to learn how to run a Knowledge Café?
If so, I am running a Knowledge Café Masterclass with CILIP in central London on Thursday 1st November 2018.
You can find full information here: 
https://www.cilip.org.uk/page/KnowledgeCafe
David Gurteen

I help people to share their knowledge; to learn from each other; to innovate and to work together effectively to make a difference!
How to contact me
My Blog
Gurteen Knowledge Community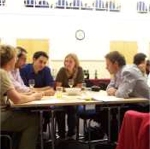 The Gurteen Knowledge Community is a global learning community of over 21,000 people in 160 countries across the world.

The community is for people who are committed to making a difference: people who wish to share and learn from each other and who strive to see the world differently, think differently and act differently.

Membership of the Gurteen Knowledge Community is free.
Knowledge Community