ICCWS 2016 is an opportunity for academics, practitioners and consultants from around the world who are involved in the study, management, development and implementation of systems and concepts to combat information warfare or to improve information systems security to come together and exchange ideas. There are several strong strands of research and interest that are developing in the area including the understanding of threats and risks to information systems, the development of a strong security culture, as well as incident detection and post incident investigation. This conference is continuing to establish itself as a key event for individuals working in the field from around the world.
Please consider submitting to this conference. We are interested in the entire range of concepts from theory to practice, including case studies, works-in-progress, and conceptual explorations.
On behalf of Boston University we are honored to welcome you to the 11th International Conference on Cyber Warfare and Security (ICCWS 2016) which will be held in Boston, Massachusetts in the USA from 17-18 March 2016.
The conference will be held at Boston University's beautiful Charles River Campus in the heart of one of America's oldest and most vibrant cities. Boston is rich in history, culture, and home to several major leaguesports teams, including the Boston Red Sox and the New England Patriots, and is known for such historic events as the Boston Tea Party, and the famous battle of Bunker Hill. Boston is often called the Athens of America, having the largest concentration of colleges and universities in the country. Boston University is the 4th largest independent University in the United States and is recognized by the National Security Agency and the Department of Homeland Security as a Center of Academic Excellence in Information Assurance Education and Research. The Organizing Committee is convinced that you will not only enjoy the conference with its extensive technical program, but also the charm and hospitality that Boston has to offer--especially during the official first week of Spring.
We look forward to the authors and presenters submitting their papers for consideration on the complex but exciting aspects of international cyber warfare and security. We will ensure exciting content of the conference and will provide ample opportunity to network with local and international colleagues.



Video: Social Networking in Plain English







You will find information on hundreds of events such as conferences, workshops and courses on this website - events that relate to the themes of the site: knowledge, learning, creativity, innovation and personal development.

If you would like to receive an e-mail alert, no more than once a week, that informs you of recently posted events in your region then please click on the button below and complete the form. You also have the option of being reminded once a week of events coming up in your region within the next month.




On the other hand you may prefer to subscribe to an RSS Feed that will keep you informed of events in your region.
If you are interested in Knowledge Management, the
Knowledge Café
or the role of conversation in organizational life then you my be interested in this online book I am writing on
Conversational Leadership
Gurteen Knowledge Community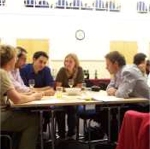 The Gurteen Knowledge Community is a global learning community of over 21,000 people in 160 countries across the world.

The community is for people who are committed to making a difference: people who wish to share and learn from each other and who strive to see the world differently, think differently and act differently.

Membership of the Gurteen Knowledge Community is free.
Knowledge Community