Evert Gummesson graduated from the Stockholm School of Economics and received his Ph.D. from Stockholm University, where he is Professor of Service Management and Marketing, and Research Director of its School of Business. The university has 34,000 students; its business school has 3,500 undergraduate and masters students, and more then 100 Ph.D. candidates. Dr. Gummesson is also a fellow of the Swedish School of Economics and Business Administration, Helsinki, and the University of Tampere, both in Finland.

His research is directed to relationship marketing and quality management with a particular emphasis on the service sector. In 1977, he published the first book on services marketing in Scandinavia and he has been featured in the Journal of Retailing as one of the international pioneers of services marketing. His latest book -Total Relationship Marketing -has become a bestseller and was appointed Best Marketing Book of the Year by the Swedish Marketing Federation, and in 1999 won the Chris Ottander Prize. He has authored and co-authored more than twenty books and numerous articles in refereed journals, such as European Journal of Marketing, Journal of the Academy of Marketing Science, Journal of Marketing Management, Long Range Planning and Service Industry Management.

He has also taken a particular interest in the theory of science and how research methodology is practiced by academic researchers and consultants. His focal interest is on qualitative methods and how these can be applied in case study research. His book Qualitative Methods in Management Research has just been published in its second and revised edition by Sage.

Dr. Gummesson is a co-founder of the Service Research Center (CTF), University of Karlstad, Sweden, and the series of international Quality in Services conferences, QUIS. He was a founding director of ISQA, The International Service Quality Association, New York, and is an elected fellow of the World Academy of Productivity Science, and a member of the Scienetific Board of SIQ, the Swedish Intitute of Quality, who handle the Swedish National Quality Award. He is a member of editorial boards for professional journals and publishers.

Dr. Gummesson has twenty-five years of experience from business, among other positions as product and marketing manager at the Reader's Digest Swedish subsidiary. From 1968 to 1982 he was employed by PA Consulting Group, on of the largest consultancies in Europe, where he became senior management consultant and a director in the Scandinavian Division. Among his clients have been Ericsson, IBM, Mastercard, the Swedish Cooperative Union, Swedish Railroads, Swedish Telecom, and the United Nations.

He frequently gives seminars and presentations at universities, conferences and major corporations around the world. Recent presentations include ABB, Volvo, Northwestern University, Strathclyde University.


| | |
| --- | --- |
| Google Video Search | Loading... |

Evert Gummesson Professor of Service Management & Marketing, Stockholm University School of Business



If you are interested in Knowledge Management, the

Knowledge Café

or the role of conversation in organizational life then you my be interested in this online book I am writing on

Conversational Leadership
Gurteen Knowledge Community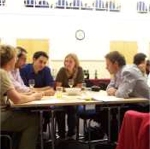 The Gurteen Knowledge Community is a global learning community of over 21,000 people in 160 countries across the world.

The community is for people who are committed to making a difference: people who wish to share and learn from each other and who strive to see the world differently, think differently and act differently.

Membership of the Gurteen Knowledge Community is free.
Knowledge Community