Schumacher was born in Germany in 1911 and died in 1977. He was an economist and worked for Britain's National Coal board for twenty years from 1950. He is famous for his book "Small is beautiful" which came to signify the entire 1970s/1980s revolt against large, impersonal organizations. He also produced a collection of essays in a book subtitled: "A Study of Economics As If People Mattered." Along with other ideas, this featured the concept of rethinking the conduct of business, economics and government on a small, human scale. Schumacher also set up the International Technology Development Group and was an adviser on economic problems to Third world Countries. Charles Handy was enormously influenced by him.


| | |
| --- | --- |
| Google Video Search | Loading... |

E. F. Schumacher (1911 - 1977) British Economist



Would you like to learn how to run a Knowledge Café?

If so, I am running a Knowledge Café Masterclass with CILIP in central London on Thursday 1st November 2018.

You can find full information here: 

https://www.cilip.org.uk/page/KnowledgeCafe
David Gurteen

I help people to share their knowledge; to learn from each other; to innovate and to work together effectively to make a difference!
How to contact me
My Blog
Gurteen Knowledge Community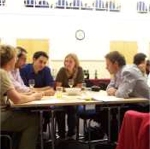 The Gurteen Knowledge Community is a global learning community of over 21,000 people in 160 countries across the world.

The community is for people who are committed to making a difference: people who wish to share and learn from each other and who strive to see the world differently, think differently and act differently.

Membership of the Gurteen Knowledge Community is free.
Knowledge Community