David Skyrme Associates , which specializes in information and knowledge management applications for innovation and wealth creation in the global networked economy.

David is a strategic analyst and management consultant specializing in knowledge management and related topics. He blends analytical insight with practical management experience.

Since completing a first class honors degree and doctorate at Oxford University he has held a number of marketing, analyst and management roles in a 25 year career in the computer industry, many of them senior roles in Digital Equipment Corporation. He created and managed Digital's UK Market Intelligence group, responsible for market research and analysis, management information systems and a knowledge center. As UK Strategic Planning Manager, he developed strategic planning processes and stimulated the creation of a vision and plans for the UK board of management.

He left Digital in March 1993 and set up his own management systems consultancy. Typical projects have included corporate knowledge management reviews, advising CKOs and other senior executives on how to succeed with knowledge management, running management development workshops on knowledge management, conducting market entry studies for online service providers, analyzing trends in Internet commerce, and enhancing organizations' web sites. Clients have included Abbey Life, BASF, BP, Cable and Wireless, the European Commission, Henley Management Centre, MoD, Royal Mail, Siemens and The World Bank.

David is a recognized authority on knowledge management.

In 1997 he coauthored the in-depth report Creating the Knowledge-based Business described by practitioners as "required reading" and "the bible of knowledge management". This was followed in 1998 by Measuring the Value of Knowledge, described by Bipin Junnarkar, former Director of Knowledge Management at Monsanto as "an outstanding contribution to the field of intellectual capital measurements". In 1999 the book Knowledge Networking: Creating the Collaborative Enterprise was published by Butterworth-Heinemann.

David holds several academic affiliations and has served on the Research Grants Board of the Economic and Social Science Research Council.


| | |
| --- | --- |
| Google Video Search | Loading... |

Knowledge Horizons (2000) by Charles Despres

, Daniele Chauvel


The Present and the Promise of Knowledge Management



David Skyrme Knowledge Consultant



If you are interested in Knowledge Management, the

Knowledge Café

or the role of conversation in organizational life then you my be interested in this online book I am writing on

Conversational Leadership
Gurteen Knowledge Community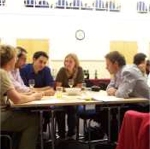 The Gurteen Knowledge Community is a global learning community of over 21,000 people in 160 countries across the world.

The community is for people who are committed to making a difference: people who wish to share and learn from each other and who strive to see the world differently, think differently and act differently.

Membership of the Gurteen Knowledge Community is free.
Knowledge Community