David Peat is an author, physicist and thinker who, four years ago, decided to settle in the village of Pari and think about the future, about where the world is going, and how we can retain all that has been valuable over the last one thousand years of Western Civilization. For many years David worked as a theoretical physicist in Canada, looking at the foundations of quantum theory and its link with general relativity. His long-term friendship with David Bohm involved an exploration of ideas in physics, space, time and the nature of consciousness. With Leroy Little Bear, David also organized a series of dialogue circles with Native American Elders and Western scientists.

As an author, he has is interested in writing books as a way of exploring new ideas and then of conveying them to a general public. While in Canada also he wrote and co-produced many radio documentaries including the twenty-hour series "A Question of Physics", as well as plays for stage and radio and a twenty-minute film, Memories.

David has a long-term interest in the links between art, music and science. For several months he served as a peripatetic "Scientist in Residence" at St Martin's School of Art, Ruskin College of Art, the West of England College of Art and Brighton College of Art. He also has several ongoing conversations with a number of artists and musicians. In Pari David is also organizing an "Accademia dei Pari" to explore issues of ethics, education, the future and the links between art and science.

Peat is the author of over twenty books including The Blackwinged Night: Creativity in Nature and Mind; Synchronicity: The Bridge between Matter and Mind; Lighting the Seventh Fire: The Spiritual Ways, Healing and Science of the Native American; Science, Order and Creativity (with David Bohm), Philosopher's Stone; Einstein's Moon; Infinite Potential: The Life and Times of David Bohm and with John Briggs - Turbulent Mirror; Looking Glass Universe and Seven Life Lessons of Chaos.


| | |
| --- | --- |
| Google Video Search | Loading... |

Science Order & Creativity by DavidáBohm, F.áDavidáPeat



PariáCentreáforáNewáLearning

F.áDavidáPeat Physicist & writer



If you are interested in Knowledge Management, the

Knowledge CafÚ

or the role of conversation in organizational life then you my be interested in this online book I am writing on

Conversational Leadership
Gurteen Knowledge Community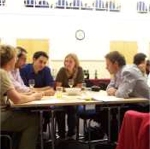 The Gurteen Knowledge Community is a global learning community of over 21,000 people in 160 countries across the world.

The community is for people who are committed to making a difference: people who wish to share and learn from each other and who strive to see the world differently, think differently and act differently.

Membership of the Gurteen Knowledge Community is free.
Knowledge Community