Information management and knowledge management shouldn't be primarily about capturing and sharing stuff, it should be about making sense of how the world works. We understand things through the everyday conversations we have with each other. How are these conversations started? It's by asking powerful questions. David Gurteen is bringing his Knowledge Cafe masterclass to CILIP. It's for anyone interested in facilitating more purposeful, constructive and creative conversations in their team or organisation and will be of particular interest to people working in the knowledge and information management sectors.

"It sounds such a simple idea, but until you have experienced a Knowledge Café you won't understand just how powerful they can be in connecting people, generating new ideas and tackling issues. David in particular brings a special kind of energy to the room that really helps, but when you stop and think about it, we are given very little time in our working lives to engage honestly and authentically with one another in that uniquely human activity, that fundamental building block of trust and understanding; conversation."

James Brown (ex. Head of Performance and Knowledge Management)
Surrey County Council

By attending this event you will:
Experience an actual Knowledge Cafe
Understand the background, motivation and principles behind the Knowledge Cafe
Learn how to design and run a Knowledge Cafe
Learn how to facilitate effectively small group and whole group conversations
Understand how to adapt the Knowledge Cafe for different purposes
You will find information on hundreds of events such as conferences, workshops and courses on this website - events that relate to the themes of the site: knowledge, learning, creativity, innovation and personal development.

If you would like to receive an e-mail alert, no more than once a week, that informs you of recently posted events in your region then please click on the button below and complete the form. You also have the option of being reminded once a week of events coming up in your region within the next month.




On the other hand you may prefer to subscribe to an RSS Feed that will keep you informed of events in your region.
If you are interested in Knowledge Management, the
Knowledge Café
or the role of conversation in organizational life then you my be interested in this online book I am writing on
Conversational Leadership
Gurteen Knowledge Community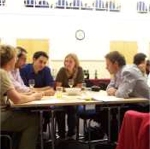 The Gurteen Knowledge Community is a global learning community of over 21,000 people in 160 countries across the world.

The community is for people who are committed to making a difference: people who wish to share and learn from each other and who strive to see the world differently, think differently and act differently.

Membership of the Gurteen Knowledge Community is free.
Knowledge Community