The ACM Conference on Information and Knowledge Management takes place in different countries around the world each year in October/November. It was founded in 1992.

The Conference on Information and Knowledge Management (CIKM) provides an international forum for presentation and discussion of research on information and knowledge management, as well as recent advances on data and knowledge bases. The purpose of the conference is to identify challenging problems facing the development of future knowledge and information systems, and to shape future directions of research by soliciting and reviewing high quality, applied and theoretical research findings. An important part of the conference is the Workshops program which focuses on timely research challenges and initiatives. CIKM has a strong tradition of workshops devoted to emerging areas of database management, IR, and related fields. Workshops vary from year to year.



Gurteen Knowledge Community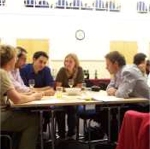 The Gurteen Knowledge Community is a global learning community of over 21,000 people in 160 countries across the world.

The community is for people who are committed to making a difference: people who wish to share and learn from each other and who strive to see the world differently, think differently and act differently.

Membership of the Gurteen Knowledge Community is free.
Knowledge Community