The Act Knowledge Management (ActKM) Forum was initiated by a small group of Australian Public Service and private sector knowledge management practitioners based in Canberra, Australia, towards the end of 1998.

The ActKM Forum is a learning community dedicated to building knowledge about public sector knowledge management. It aims to provide an environment where members can create and share knowledge about public sector knowledge management issues.

This environment consists of creating opportunities for members to have conversations and capturing our experiences for other members to use. This is done in a number of ways including monthly meetings, focus group discussions, email discussions and a repository of relevant information available via the Internet site.

The Forum has three main themes:
Understanding how to implement knowledge solutions in a public sector environment;
Gaining a better understanding of the people aspects of knowledge management; and
Raising the profile of knowledge management among senior public sector managers.

Video: David Gurteen on when innovation should take place





David Gurteen on when innovation should take place.

The Institute for Research and Innovation in Social Services (IRISS)

, Glasgow.

Media Information:



Link
actKM Forum
Australian community dedicated to sharing knowledge about public sector KM
Online Forum
actKM Forum
Australian KM public sector discussion forum
If you are interested in Knowledge Management, the
Knowledge Café
or the role of conversation in organizational life then you my be interested in this online book I am writing on
Conversational Leadership
Gurteen Knowledge Community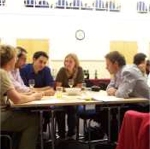 The Gurteen Knowledge Community is a global learning community of over 21,000 people in 160 countries across the world.

The community is for people who are committed to making a difference: people who wish to share and learn from each other and who strive to see the world differently, think differently and act differently.

Membership of the Gurteen Knowledge Community is free.
Knowledge Community