A slightly dated if not funny book which explores the cultural divide between Britain and American by analyzing the comparisons and contrasts. Designed to increase our understanding and to act partially as a guide.




David Gurteen Winn Wednesday : April 2017







You will find information on over 200 books on this website - books that relate to the themes of the site: knowledge, learning, creativity, innovation and personal development.

If you would like to receive an e-mail alert whenever I post information about a new book (i.e. one that has been published in the last 12 months) then please click on the button below and complete the form.



Brit-Think Ameri-Think (1986) by Jane Walmsley


An Irreverent Guide to Understanding the Great Cultural Ocean that Divides Us


Gurteen Knowledge Community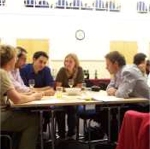 The Gurteen Knowledge Community is a global learning community of over 21,000 people in 160 countries across the world.

The community is for people who are committed to making a difference: people who wish to share and learn from each other and who strive to see the world differently, think differently and act differently.

Membership of the Gurteen Knowledge Community is free.
Knowledge Community