The Structure of Scientific Revolutions was conceived by Thomas Kuhn while he was still a graduate student in theoretical physics and was published in 1962. The book dispelled the widely held view that scientific change was a strictly rational process. His view was that science was not a steady, cumulative acquisition of knowledge. Instead, he saw it as "a series of peaceful interludes punctuated by intellectually violent revolutions." in which "one conceptual world-view was replaced by another." He called these world-views "paradigms".
Gurteen Knowledge Community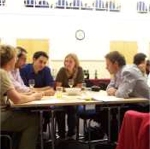 The Gurteen Knowledge Community is a global learning community of over 21,000 people in 160 countries across the world.

The community is for people who are committed to making a difference: people who wish to share and learn from each other and who strive to see the world differently, think differently and act differently.

Membership of the Gurteen Knowledge Community is free.
Knowledge Community