The Premier Meeting Place for the Executive L&D Community
Join 100+ delegates, 40+ speakers, May 15-17 2018 in San Francisco Following the huge success of the Chief Learning Officer Forum, Fall 2017 we are pleased to announce the third edition of Corinium's Chief Learning Officer Forum, Spring. The Chief Learning Officer Forum, Spring is North America's leading learning and development conference for Chief Learning Officers, Chief Diversity Officers, Chief HR Officers, Organizational Leadership and Employee Engagement Executives across the learning and development landscape. Join over 100+ executives and 40+ speakers including Uber, NASA, World Bank and Reddit for a three day agenda featuring insightful keynotes from industry experts, in-depth presentations and interactive discussion groups - guaranteeing you leave with real, concrete takeaways to apply to your company. The CLO Forum, Spring features one-on-one conversations with industry leaders who are grappling with the risk and opportunity that comes with change, giving attendees plenty of time to continue the discussions, in an invigorating setting. Every aspect of the event has been designed to facilitate networking opportunities and conversations between our speakers, panellists and fellow attendees.
Why attend CLO Forum Spring?
Every aspect of the event is designed to facilitate networking opportunities and conversations between our speakers, panelists, and fellow attendees. With over 8 hours of free networking time, CLO, Spring has unrivalled opportunity to pick the brains of your fellow L&D professionals and make lasting business connections.
83% of our attendees are Director-level or above, meaning you will be discussing with the people making decisions and setting strategies in companies from 30+ Industries. Browse the sample attendee list to see who you could be meeting
We provide a unique blend of handpicked speakers from multiple industries including; Healthcare, Pharmaceutical, Airlines, Hospitality, Retail and the Public Sector. See full speaker lineup here
Dedicated Focus Day on The Disruption of Digital Learning on May 15th. The workplace is changing at an unprecedented rate, employees have embraced the latest mobile devices and digital technologies in the home and they now expect and demand the same in the office. As the latest tribe of digital natives join the workforce, having these kinds of tools and applications in place is more important than ever. The day brings a variety of keynote presentation, discussions and case studies on how to stay ahead of the wave in the digital world.
Our keynote presentations, panels and Discussion Groups are created with your immediate needs in mind. Our goal is for you to walk away having learned new strategies and tactics that you can apply to your company the minute you return. We offer a variety of session formats to peak your interests and help you tackle specific issues within L&D.
Our exclusive breakfast round-tables offer you an opportunity to sit down with a expert on today's biggest topics across the L&D landscape, use this opportunity to network and engage with like minded peers and hear from expert leaders for solutions and advice for you to takeaway.
Register now to secure your place and get 15% discount by quoting code GK15.



Video: Robin Good TV







You will find information on hundreds of events such as conferences, workshops and courses on this website - events that relate to the themes of the site: knowledge, learning, creativity, innovation and personal development.

If you would like to receive an e-mail alert, no more than once a week, that informs you of recently posted events in your region then please click on the button below and complete the form. You also have the option of being reminded once a week of events coming up in your region within the next month.




On the other hand you may prefer to subscribe to an RSS Feed that will keep you informed of events in your region.
If you are interested in Knowledge Management, the
Knowledge Café
or the role of conversation in organizational life then you my be interested in this online book I am writing on
Conversational Leadership
Gurteen Knowledge Community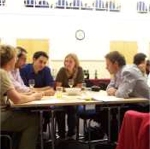 The Gurteen Knowledge Community is a global learning community of over 21,000 people in 160 countries across the world.

The community is for people who are committed to making a difference: people who wish to share and learn from each other and who strive to see the world differently, think differently and act differently.

Membership of the Gurteen Knowledge Community is free.
Knowledge Community