Blockchain is a word that is growing in usage – in both the IT and information management worlds. It is one of the most exciting and potentially game-changing technologies. But what is it and what does it mean? And as information professionals what do we need to know? What will be its impact on the management of information and knowledge?
This NetIKX session will introduce the concept of Blockchain and how it is shaping the future of operations and data assets. It will give some background to a number of benefits, issues and possible applications of Blockchain. This will be done from a technology and information management perspective. The session will also show a number of specific Blockchain projects that are being developed by The National Archives.
The speakers are:
Noeleen Schenk, who has over twenty years' experience of working in the information sector as a practitioner, researcher and consultant. Her recent projects have focused on all aspects of information and knowledge management – from governance to assurance, helping clients successfully manage their information and minimise the risk to their information assets.
Marc Stephenson, who is the Technical Director at Metataxis. Marc has worked on the design, implementation and ongoing management of information systems for over 25 years, including organisations in health, central and local government, banking, utilities, new media and publishing. He has architected and implemented many IT solutions, ranging from intranets, document management systems, records management systems, and ECM portals.
John Sheridan, who is the Digital Director at The National Archives, where he leads the development of the organisation's digital archiving capability and the transformation of its digital services.
Mark Bell, who is a member of The National Archives' Digital Research team. Mark has over 20 years' experience working with database technologies, both as developer and designer, including organisations in government, telecoms, and banking.
A pdf giving details of the meeting can be downloaded from here.

Video: David Gurteen on who should drive innovation





David Gurteen on who should drive innovation.

The Institute for Research and Innovation in Social Services (IRISS)

, Glasgow.

Media Information:



You will find information on hundreds of events such as conferences, workshops and courses on this website - events that relate to the themes of the site: knowledge, learning, creativity, innovation and personal development.

If you would like to receive an e-mail alert, no more than once a week, that informs you of recently posted events in your region then please click on the button below and complete the form. You also have the option of being reminded once a week of events coming up in your region within the next month.




On the other hand you may prefer to subscribe to an RSS Feed that will keep you informed of events in your region.
If you are interested in Knowledge Management, the
Knowledge Café
or the role of conversation in organizational life then you my be interested in this online book I am writing on
Conversational Leadership
Gurteen Knowledge Community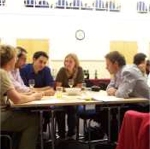 The Gurteen Knowledge Community is a global learning community of over 21,000 people in 160 countries across the world.

The community is for people who are committed to making a difference: people who wish to share and learn from each other and who strive to see the world differently, think differently and act differently.

Membership of the Gurteen Knowledge Community is free.
Knowledge Community