We are pleased to announce that, CII National Committee on Knowledge Management and Business Transformation (KMBT) is organizing the National Knowledge Management Summit on Monday, 27-Tuesday, 28 February 2017 at Hotel Novotel, HCC, Hyderabad.
As data volumes continue to grow and newer tools for analysis take the spotlight, the KM picture begins to crystallize into something more self-generating and sustaining than ever before. The CII National Knowledge Management Summit 2017 is built around the central theme of the 'Knowledge Management in all its Dimensions' driven by technology and new trends that are emerging as the game-changers.
The KM Summit will provide opportunity to deep-dive into how newer organizations are discovering KM strategies for driving growth and innovation. There has been a strong influx of industries from non-traditional sectors that are at various levels of maturity with their knowledge systems, and have marked an increased internal and external attention to the KM experience.



Flickr Slideshow: Jakarta visit July 2008





You will find information on hundreds of events such as conferences, workshops and courses on this website - events that relate to the themes of the site: knowledge, learning, creativity, innovation and personal development.

If you would like to receive an e-mail alert, no more than once a week, that informs you of recently posted events in your region then please click on the button below and complete the form. You also have the option of being reminded once a week of events coming up in your region within the next month.




On the other hand you may prefer to subscribe to an RSS Feed that will keep you informed of events in your region.
If you are interested in Knowledge Management, the
Knowledge Café
or the role of conversation in organizational life then you my be interested in this online book I am writing on
Conversational Leadership
David Gurteen

I help people to share their knowledge; to learn from each other; to innovate and to work together effectively to make a difference!
How to contact me
My Blog
Gurteen Knowledge Community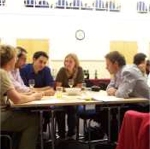 The Gurteen Knowledge Community is a global learning community of over 21,000 people in 160 countries across the world.

The community is for people who are committed to making a difference: people who wish to share and learn from each other and who strive to see the world differently, think differently and act differently.

Membership of the Gurteen Knowledge Community is free.
Knowledge Community