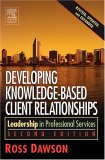 Developing Knowledge-Based Client Relationships, Second Edition, shows organizations how to lead their key clients into lasting, profitable, high-value relationships. Building on the powerful, tested principles of knowledge-based client relationships, Ross Dawson provides clear and extremely practical approaches for all professional and knowledge-based firms on how to create unique value for both clients and themselves. Detailed case studies across a wide variety of professional services industries offer valuable insights into world leading practice in the field.
<br><br>
He examines key client programs, and how to create deeper knowledge-based relationships through these. He discusses in detail the collaborative technologies available today and how they can be used in client relationships, along with managing portfolios of communications channels. He also discusses firm-wide relationship management, leading relationship teams, and value-based pricing for knowledge-based client relationships. This is done by presenting underlying theoretical framework, a variety of tools for structuring relationships and presenting knowledge to clients, and numerous case studies and examples of firms which have implemented these concepts successfully.




Video: Social Media in Plain English







You will find information on over 200 books on this website - books that relate to the themes of the site: knowledge, learning, creativity, innovation and personal development.

If you would like to receive an e-mail alert whenever I post information about a new book (i.e. one that has been published in the last 12 months) then please click on the button below and complete the form.



Developing Knowledge-Based Client Relationships 2ed (Jun 2005) by Ross Dawson
Leadership in Professional Services



Living Networks (Oct 2002) by Ross Dawson
Leading Your Company, Customers, and Partners in the Hyper-Connected Economy



Ross Dawson Founder & Chief Executive Officer of Advanced Human Technologies



My

Knowledge Café Masterclass

where you can learn how to design and run a Knowledge Café is coming up fast on

Thursday 1st November 2018

in central London

You can find more information and register here: 

https://www.cilip.org.uk/page/KnowledgeCafe
David Gurteen

I help people to share their knowledge; to learn from each other; to innovate and to work together effectively to make a difference!
How to contact me
My Blog
Gurteen Knowledge Community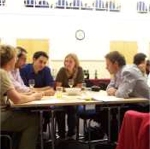 The Gurteen Knowledge Community is a global learning community of over 21,000 people in 160 countries across the world.

The community is for people who are committed to making a difference: people who wish to share and learn from each other and who strive to see the world differently, think differently and act differently.

Membership of the Gurteen Knowledge Community is free.
Knowledge Community