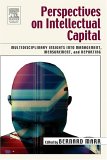 Perspectives on Intellectual Capital bridges the disciplinary gaps and facilitates knowledge transfer across disciplines, featuring views on intellectual capital from the fields of accounting, strategy, marketing, human resource management, operations management, information systems, and economics. It also offers interdisciplinary views on intellectual capital from the perspectives of public policy, knowledge management and epistemology. By analyzing the various perspectives, Editor Bernard Marr is able to present a truly comprehensive understanding of what intellectual capital is, including the "state of the art" thinking about it in each discipline, the common key trends, and the trajectories for future developments, learning, and practice.

Contributors include many of the leading thinkers in their respective disciplines: Mie Augier and David Teece on the Economic Perspective, Bernard Marr and Goran Roos on the Strategy Perspective, Baruch Lev, Leandro Canibano, and Bernard Marr on the Accounting Perspective; Sudi Sudarsanam, Ghulam Sorwar, and Bernard Marr on the Finance Perspective; Jan Mourtisen, Per Nikolaj Bukh, and Bernard Marr on the Reporting Perspective; Lisa Fernstrom on the Marketing Perspective; Ulf Johanson on the HR Perspective; L. Martin Clotier and E. Richard Gold on the Legal Perspective; Partick H. Sullivan on the Intellectual Property Perspective; Giovanni Schiuma, Antonio Lerro, and Daniela Carlucci on the Interfirm Perspective; Ahmed Bounfour and Leif Edvinsson on the Public Policy Perspective; J-C Spender and Bernard Marr on a Knowledge-Based Perspective; Goran Roos on An Epistemology Perpsective. Foreword by Robert Grant.

Bernard Marr is Chief Exectutive and Director of Reserch at the Advanced Performance Insitute. For more information or to contact Bernard Marr please visit: http://www.ap-institute.com




Video: David Gurteen on the best circumstances for thriving innovation





David Gurteen on the best circumstances for thriving innovation.

The Institute for Research and Innovation in Social Services (IRISS)

, Glasgow.

Media Information:



You will find information on over 200 books on this website - books that relate to the themes of the site: knowledge, learning, creativity, innovation and personal development.

If you would like to receive an e-mail alert whenever I post information about a new book (i.e. one that has been published in the last 12 months) then please click on the button below and complete the form.



Perspectives on Intellectual Capital (Feb 2005) by Bernard Marr


Multidisciplinary Insights Into Management, Measurement, and Reporting



The Intelligent Company (Nov 2010) by Bernard Marr


Five Steps to Success with Evidence-Based Management



If you are interested in Knowledge Management, the

Knowledge Café

or the role of conversation in organizational life then you my be interested in this online book I am writing on

Conversational Leadership
Gurteen Knowledge Community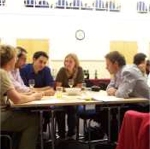 The Gurteen Knowledge Community is a global learning community of over 21,000 people in 160 countries across the world.

The community is for people who are committed to making a difference: people who wish to share and learn from each other and who strive to see the world differently, think differently and act differently.

Membership of the Gurteen Knowledge Community is free.
Knowledge Community