The last few decades have belonged to a certain kind of person with a certain kind of mind - computer programmers who could crank code, lawyers who could craft contracts, MBAs who could crunch numbers.

But the keys of the kingdom are changing hands.

The future belongs to a very different kind of person with a very different kind of mind - creators and empathizers, pattern recognizers and meaning makers.

These people - artists, inventors, designers, storytellers, caregivers, consolers, big picture thinkers - will now reap society's richest rewards and share its greatest joys.



Daniel H. Pink
Quotations are extremely effective at capturing and concisely communicating thoughts and ideas. They can be inspirational but more importantly quotations can help us reveal and assess the assumptions, values and beliefs that underlie the ways in which we perceive the world.

I have compiled over 800 quotations and short excerpts on this website. It is an eclectic mix but most of them are inspirational or insightful in nature and relate to knowledge, learning or personal development in some form.

If you love quotations as much as I do then you may wish to register to have a quote e-mailed to you once a week or more frequently by clicking on the button below and completing the form.




You can also subscribe to an RSS feed

Gurteen Daily Knowledge Quotes that will deliver a quote to your newsreader each day. Or you can follow GurteenQuotes on Twitter and receive a quote there each day.
Quotations from Daniel H. Pink:

The last few decades have belonged to a certain kind of person with a certain kind of mind - computer programmers who could crank code, lawyers who could craft contracts, MBAs who could crunch numbers.

But the keys of the kingdom are changing hands.

The future belongs to a very different kind of person with a very different kind of mind - creators and empathizers, pattern recognizers and meaning makers.

These people - artists, inventors, designers, storytellers, caregivers, consolers, big picture thinkers - will now reap society's richest rewards and share its greatest joys.

Daniel H. Pink


A Whole New Mind

---
Gurteen Knowledge Community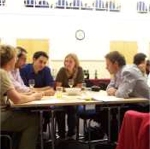 The Gurteen Knowledge Community is a global learning community of over 21,000 people in 160 countries across the world.

The community is for people who are committed to making a difference: people who wish to share and learn from each other and who strive to see the world differently, think differently and act differently.

Membership of the Gurteen Knowledge Community is free.
Knowledge Community