Not like the brazen giant of Greek fame,
With conquering limbs astride from land to land;
Here at our sea-washed, sunset gates shall stand
A mighty woman with a torch, whose flame
Is the imprisoned lightning, and her name
Mother of Exiles. From her beacon-hand
Glows world-wide welcome; her mild eyes command
The air-bridged harbor that twin cities frame.
"Keep ancient lands, your storied pomp!" cries she
With silent lips. "Give me your tired, your poor,
Your huddled masses yearning to breathe free,
The wretched refuse of your teeming shore.
Send these, the homeless, tempest-tost to me,
I lift my lamp beside the golden door!



Emma Lazarus
Quotations are extremely effective at capturing and concisely communicating thoughts and ideas. They can be inspirational but more importantly quotations can help us reveal and assess the assumptions, values and beliefs that underlie the ways in which we perceive the world.

I have compiled over 800 quotations and short excerpts on this website. It is an eclectic mix but most of them are inspirational or insightful in nature and relate to knowledge, learning or personal development in some form.

If you love quotations as much as I do then you may wish to register to have a quote e-mailed to you once a week or more frequently by clicking on the button below and completing the form.




You can also subscribe to an RSS feed

Gurteen Daily Knowledge Quotes that will deliver a quote to your newsreader each day. Or you can follow GurteenQuotes on Twitter and receive a quote there each day.
Quotations from Emma Lazarus:

Not like the brazen giant of Greek fame,
With conquering limbs astride from land to land;
Here at our sea-washed, sunset gates shall stand
A mighty woman with a torch, whose flame
Is the imprisoned lightning, and her name
Mother of Exiles. From her beacon-hand
Glows world-wide welcome; her mild eyes command
The air-bridged harbor that twin cities frame.
"Keep ancient lands, your storied pomp!" cries she
With silent lips. "Give me your tired, your poor,
Your huddled masses yearning to breathe free,
The wretched refuse of your teeming shore.
Send these, the homeless, tempest-tost to me,
I lift my lamp beside the golden door!

Emma Lazarus

---
If you are interested in Knowledge Management, the
Knowledge Café
or the role of conversation in organizational life then you my be interested in this online book I am writing on
Conversational Leadership
Gurteen Knowledge Community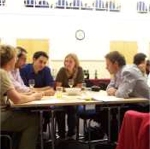 The Gurteen Knowledge Community is a global learning community of over 21,000 people in 160 countries across the world.

The community is for people who are committed to making a difference: people who wish to share and learn from each other and who strive to see the world differently, think differently and act differently.

Membership of the Gurteen Knowledge Community is free.
Knowledge Community