Managing Knowledge Workers provides practical advise for managing, motivating and retaining knowledge workers. It focuses not only on understanding the value of knowledge in an organization, but also on managing the human side of intellectual capital - the knowledge workers themselves.

David Gurteen's comments: This is an interesting and useful book. It is a practical down-to-earth guide for anyone managing or interacting with knowledge workers in any field. It contains, for example, chapters covering such topics as "Encouraging People to Learn", "Managing Knowledge You Don't Understand" and "The Free Movement of People and Knowledge". Important subjects that you will not find addressed in many other books on knowledge management. The book has a number of imaginary dialogues between "manager" and "worker" that serve as practical examples of how best to approach a particular issue. Many of these are good but sometimes they come across as being a little trite or overly simplistic. Despite this, however, the underlying message is usually of value. I would highly recommend the book as a guide to any newly appointed manager or as a mind-opener for experienced managers who are finding it increasingly difficult to manage in the traditional "command and control" style.



Video Playlist: Alfie Kohn







You will find information on over 200 books on this website - books that relate to the themes of the site: knowledge, learning, creativity, innovation and personal development.

If you would like to receive an e-mail alert whenever I post information about a new book (i.e. one that has been published in the last 12 months) then please click on the button below and complete the form.



Managing Knowledge Workers (1999) by Frances Horibe


New Skills and Attitudes to Unlock the Intellectual Capital in Your Organization



If you are interested in Knowledge Management, the

Knowledge Café

or the role of conversation in organizational life then you my be interested in this online book I am writing on

Conversational Leadership
Gurteen Knowledge Community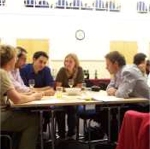 The Gurteen Knowledge Community is a global learning community of over 21,000 people in 160 countries across the world.

The community is for people who are committed to making a difference: people who wish to share and learn from each other and who strive to see the world differently, think differently and act differently.

Membership of the Gurteen Knowledge Community is free.
Knowledge Community