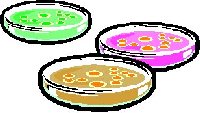 I've agreed to review the book
We Blog
by Paul Bausch, Matthew Haughey and Meg Hourihan for
Knowledge Management Magazine (Bizmedia)
which is proving quite useful as it
forces
me to read a book on blogging in far more detail than I might otherwise have done. I've just started to browse through it and came across this little description of weblogs:
Weblogs spread memes like no other medium. More ideas are being pushed around the network of minds connected by blogs than any other set of communications. It is like a petri dish for knowledge.
I love
metaphor
and the mental image of sprinkling little knowledge seeds on a petri dish and watching them grow is a beautiful one.