I give keynote talks, presentations, talks, chair conferences and run knowledge cafés and workshops. Below is my upcoming schedule and a list of past engagements. Given how much I seem to get involved in - it is never quite complete!

I love to meet people and to network and am always looking for opportunities to do so. If you see an opportunity to meet with me - please come to the event or drop me an e-mail or call me to arrange to meet.


Keynote talk at Eduhub Days
5th Eduhub Days
Eduhub Community , 30 - 31 Jan 2013, St Gallen, Switzerland


Opening keynote address KM Legal Europe: Positive deviance – or how you might already have the answers!
KM Legal Europe 2013
Ark Group, 23 - 24 Jan 2013, Amsterdam, Netherlands


Facilitating a private Knowledge Cafe for DEWA in Dubai
22 Nov 2012, Dubai, United Arab Emirates


Facilitating two private Knowledge Cafes for DEWA in Dubai
21 Nov 2012, Dubai, United Arab Emirates


Co-chairing KM Asia 2012 and facilitating a knowledge cafe workshop
KM Asia 2012
Ark Group, 06 - 08 Nov 2012, Singapore City, Singapore


Running an open Knowledge Cafe at Harwell Oxford
Gurteen Knowledge Cafe
Gurteen Knowledge, 24 Oct 2012, Oxford, United Kingdom


Giving a talk and facilitating a workshop at BNM KM Conference
KM Conference 2012: Strengthening Organisational P ...
Bank Negara Malaysia Knowledge Management Centre , 08 - 12 Oct 2012, Kuala Lumpur, Malaysia


Facilitating a private Knowledge Cafe for SABC Media Libraries
SABC Knowledge Cafe
03 Sep 2012, Johannesburg, South Africa


If you are interested in Knowledge Management, the
Knowledge Café
or the role of conversation in organizational life then you my be interested in this online book I am writing on
Conversational Leadership
Gurteen Knowledge Community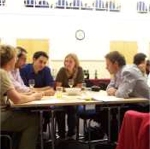 The Gurteen Knowledge Community is a global learning community of over 21,000 people in 160 countries across the world.

The community is for people who are committed to making a difference: people who wish to share and learn from each other and who strive to see the world differently, think differently and act differently.

Membership of the Gurteen Knowledge Community is free.
Knowledge Community