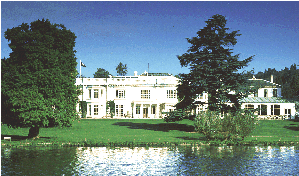 The
Henley Forum for Organisational Learning and Knowledge Strategies
(known as the Henley Forum) has a meeting coming up on Thursday 27 September 2018 -
Absorbing complex change
. It's a members' only event but there are a few guest places available at £175 + VAT. This is a great learning opportunity at a low price and a chance to experience the Henley Forum.
There is also a 2-day workshop next year -
Advancing your OD practice
22 – 23 January 2019 open to non-members.
And a date for your calendar - the Henley Forum Annual Conference takes place 06 - 07 March 2019 "Amplifying our practice: leading the way with knowledge, learning and change". The conference is also open to non-members.
If you are interested in any of these events contact Marina Hart - her details are on the above webpages.
The Henley Business School campus is on the banks of the River Thames near Henley-on-Thames. I always love going there as it is delightful any time of the year.
If you are interested in Knowledge Management, the
Knowledge Café
or the role of conversation in organizational life then you my be interested in this online book I am writing on
Conversational Leadership